IKEA has some great speech therapy finds for great deals. I have bought a random assortment of things from there over the years for my speech room.  For those of you who don't have an IKEA nearby, Amazon just started selling many IKEA items! Currently, the prices are more expensive on Amazon though so I recommend checking out what is available for purchase online at IKEA first. Here are some of my favorites!
1. FINGER PUPPETS – $4.99
I consider puppets a therapy must-have! In fact, read my whole post about using puppets here! They also sell regular size puppets if that better suits your needs.
2. TRAIN SET – $9.99
My IKEA train set has served me quite well for many years! It has been a great motivator and reinforcer – give a train track piece per trial or use for requesting/commenting.
3. DOLLHOUSE – $29.99
This is a great, simple dollhouse. IKEA also sells dollhouse furniture. Using a play house with dolls has endless possibilities! Nouns, pronouns, verbs, vocabulary, sentence formulation…
4. PLUSH FOOD – $7.99
IKEA carries multiple plush food sets that go great with a play kitchen (which IKEA carries) or by themselves. They are great for play-based therapy, working on vocabulary, categorization, and more!
5. INTERACTIVE RUG – $14.99
I love functional room decor. This rug (and the others they carry in store) are great for targeting many language concepts – core vocabulary, following directions, verbs, prepositions, basic concepts!
6. PLAY TUNNEL AND STRUCTURES – $14.99
I like incorporating sensory play into my session. If you're willing to get on the floor, a play tunnel or structure is great for getting kids moving and engaging busy bodies! I place drill cards in or at the end of the tunnel. It's also fun to practice various positional and basic concepts. It's more expensive, but this camper structure would make for great role play!
7. TABLE AND CHAIRS – $24.99
A great deal on a table and 2 chairs. They also carry a more durable plastic table and chairs.
8. STORAGE CART – $24.99
This is a great cart for storing and moving materials.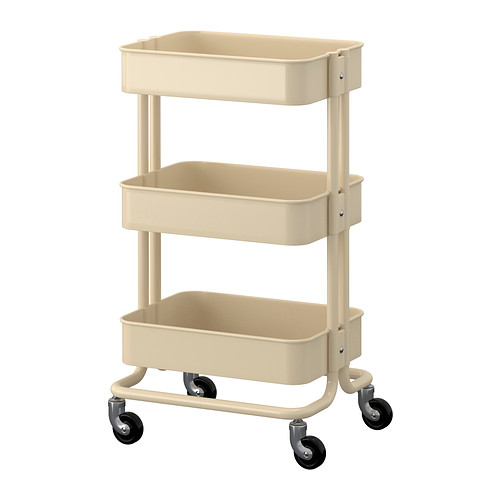 Check out IKEA's role play and physical play sections for more ideas and fun items!
What are some of your favorite IKEA therapy finds?

If you enjoyed this post, please share it!
Follow my blog with Bloglovin