Welcome and thanks to my guest blogger, Stacey Richey! Today she is sharing how to use functional themed therapy to target many goals in speech therapy.
My name is Stacey Richey and I have been an SLP for 10 years. I have worked in public schools (PK-6th grades) with a caseload size ranging from 60-100 students, so I know how hard it is to see all of your students effectively without having a ton of time to prep! I LOVE using year-round themes in therapy because I can prep them once and they're always ready to go.
My favorite theme to use in speech therapy is food. Every student is familiar with the topic and has his/her own experiences and culture to share. This theme is easily adaptable for mild to severe delays across all ages and goes with many different books. In addition to the ideas in this post, I created a food-themed freebie (found at the bottom of this blog post) that includes additional activities and book suggestions.
Area of Focus #1: Target Vocabulary
Grab real items, plastic food, mini objects, or real-life pictures to practice naming nouns, verbs, and adjectives. Teach vocabulary through play. I like to take a mini trashcan to be a monster who eats anything. Students love taking turns pretending to be the monster. Hide objects or pictures around the room to add a movement/gross motor element. Target pronouns by making your monster a girl/boy.
Problem Solving:
If you don't have a mini trashcan, no sweat! Grab a plastic container or a tissue box to be your monster.
No room for plastic objects? Use real-life pictures, but try to make sure the backgrounds are removed to decrease distraction.
Area of Focus #2: Make Connections
There are several ways to help students make connections with the vocabulary words. 1) Sort your vocabulary objects/pictures by categories (e.g., food group, time of day/meal, healthy/unhealthy, etc.). 2) Practice describing food items and sort them into categories based on adjectives [e.g., texture (crunchy, squishy, etc.), color, etc.]. 3) To target phonological awareness, sort items by initial sound, final sound, or number of syllables.
Problem Solving:
Don't have food group pictures printed for sorting activities? Write them down and draw your own picture(s).
Don't have a variety of food objects for sorting? Print some additional pictures or draw your own.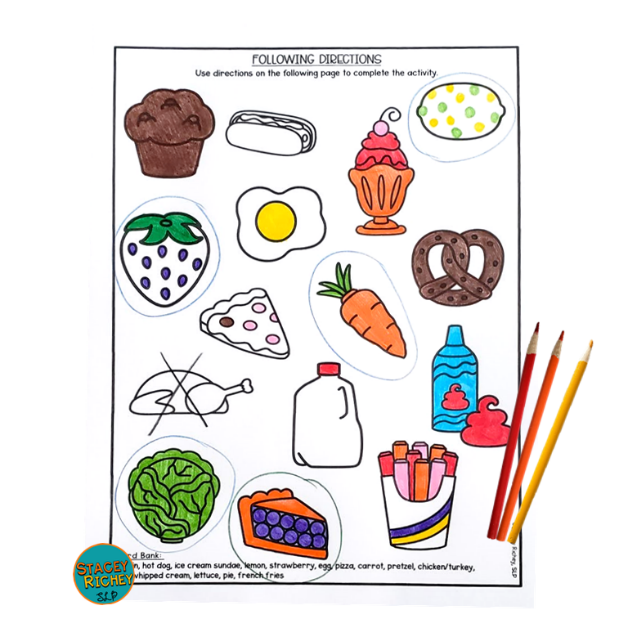 Area of Focus #3: Make More Connections Through Sequencing and Following Directions
Talk about the steps it takes to make different foods. Practice following directions with food items/pictures or worksheets. To add a fine motor activity, use playdough to make the different foods (e.g., pizza, sandwich, etc.). Read a recipe or a story for additional practice of sequencing and retell.
Problem Solving:
Students aren't familiar with a food item you are making? Look up "how-to" videos on the internet. (Make sure to watch beforehand to check for appropriateness of the content.)
Don't have a lot of books? Check some out from the library, a neighbor, or check out websites online (e.g., Vooks, Epic, etc.).
Area of Focus #4: Higher Level Students/Upper Elementary
Compare and contrast food items to make additional connections. Learn about foods from different countries and cultures, or foods that are eaten during certain holidays throughout the year. Reading books is a great way to discuss foods eaten in different cultures.
Problem Solving:
Sometimes students have a hard time naming similarities and differences between 2 items/pictures. Make sure they understand what "same" and "different" mean. I like to have students make a list describing each item. Then we circle the descriptions that are the same and repeat the answer aloud.
Sometimes students don't understand a food item when it is described to them because they've never experienced it. Try to find a picture online and make comparisons with foods they are familiar with. For example, if the food is spicy, compare it to something spicy the student has eaten.
Favorite Books:
Here is a (very) short list of my favorite food-themed books:
Follow that Food! By: Christy Webster
There's a Giraffe in My Soup! By: Ross Burach
Woodpecker Wants a Waffle By: Steve Breen
Bear Wants More By: Karma Wilson
3 Important Things to Remember:
Start with basic vocabulary so students have a solid foundation of skills.
Make connections with the vocabulary! Sort by categories and describe the items/pictures.
Help higher level students make even more connections through compare/contrast activities.
Free Download
Be sure to grab my food theme freebie to get you started! I hope you love this theme as much as I do!
Thank you Stacey for these engaging themed therapy ideas! You can find her on Teachers Pay Teachers, Instagram, and Pinterest.
---
Are you interested in being a guest blogger? Fill out this form!