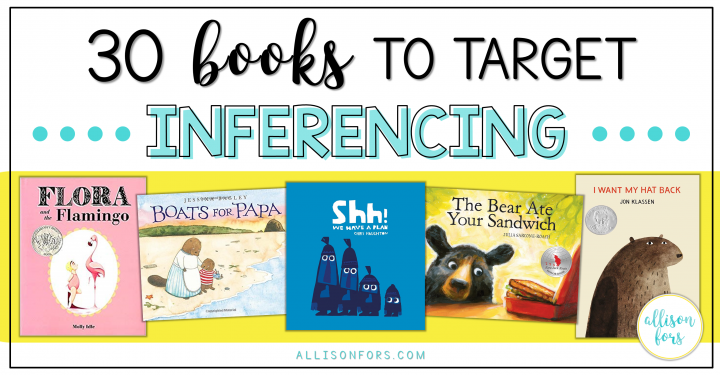 Books are a great way to work on inferencing in your speech therapy sessions, at home, or in your classrooms.
The ability to make inferences is a key part of skilled reading comprehension and effective communication – after all, we use it every day! Children need to be able to understand the unspoken connection between statements, as well as their implied meaning. Explicitly teaching and reinforcing inference-making leads to better outcomes in overall text comprehension, text engagement, and metacognitive thinking. [1]
How to teach inferencing:
An inference is using facts, reasoning, and observations to come to a conclusion. Books are a great way to introduce and target inferencing and are a good in-between step between simple pictures and text-based inferences. Wordless picture books work especially well for inferring because they are highly dependent on making inferences to comprehend the story. The list below contains some wordless picture books but you can find many more in this post here!
25 Wordless Picture Books
Target inferencing by asking children to make assumptions or predictions for the characters in a book. Though predicting is slightly different than inferencing (a prediction will likely be confirmed later in the book while an inference will be more abstract), they are closely related. Have the student use the clues that the author provides – either in the text or images –to guess what will happen next. Once they've answered, have them explain why they predicted that. Students should be able to cite the evidence they used to draw conclusions in order to make the implicit process more explicit. [1]
You can also focus on inferring what a character is feeling or thinking based on what they say or how they look. The standard who, what, when, where and why questions open endless possibilities. For example, looking at a picture of a boy smiling at a puppy:
Who is the boy in the picture?
What is he going to do next?
When did this happen?
Where is he?
Why is he smiling?
Some of my favorite books to use:
I Want My Hat Back
This Is Not My Hat
What Do You Do with a Tail Like This?
I'm a Frog! (An Elephant and Piggie Book)
Boats for Papa
My Lucky Day
The Bear Ate Your Sandwich
Sylvester and the Magic Pebble
No, David!
Click, Clack, Moo Cows That Type
Shh! We Have a Plan
The Boy and the Airplane
Two Bad Ants
The Stray Dog
Voices in the Park
City Dog, Country Frog
The Wretched Stone
The Stranger
Diary of a Worm
Blackout
The Invisible Boy
Thanks for reading!
Do you have any other books to add to this list?
25 Wordless Picture Books
30 Books to Target Negation
25 Books to Target Verbs

[1] Borné, L., Cox, J., Hartgering, M., & Pratt, E. (2005). Making inferences from text [Overview]. Dorchester, MA: Project for School Innovation.
If you enjoyed this post, please share it!
Follow my blog with Bloglovin
We are a participant in the Amazon Services LLC Associates Program, an affiliate advertising program designed to provide a means for sites to earn advertising fees by advertising and linking to Amazon.com.  All opinions are my own.