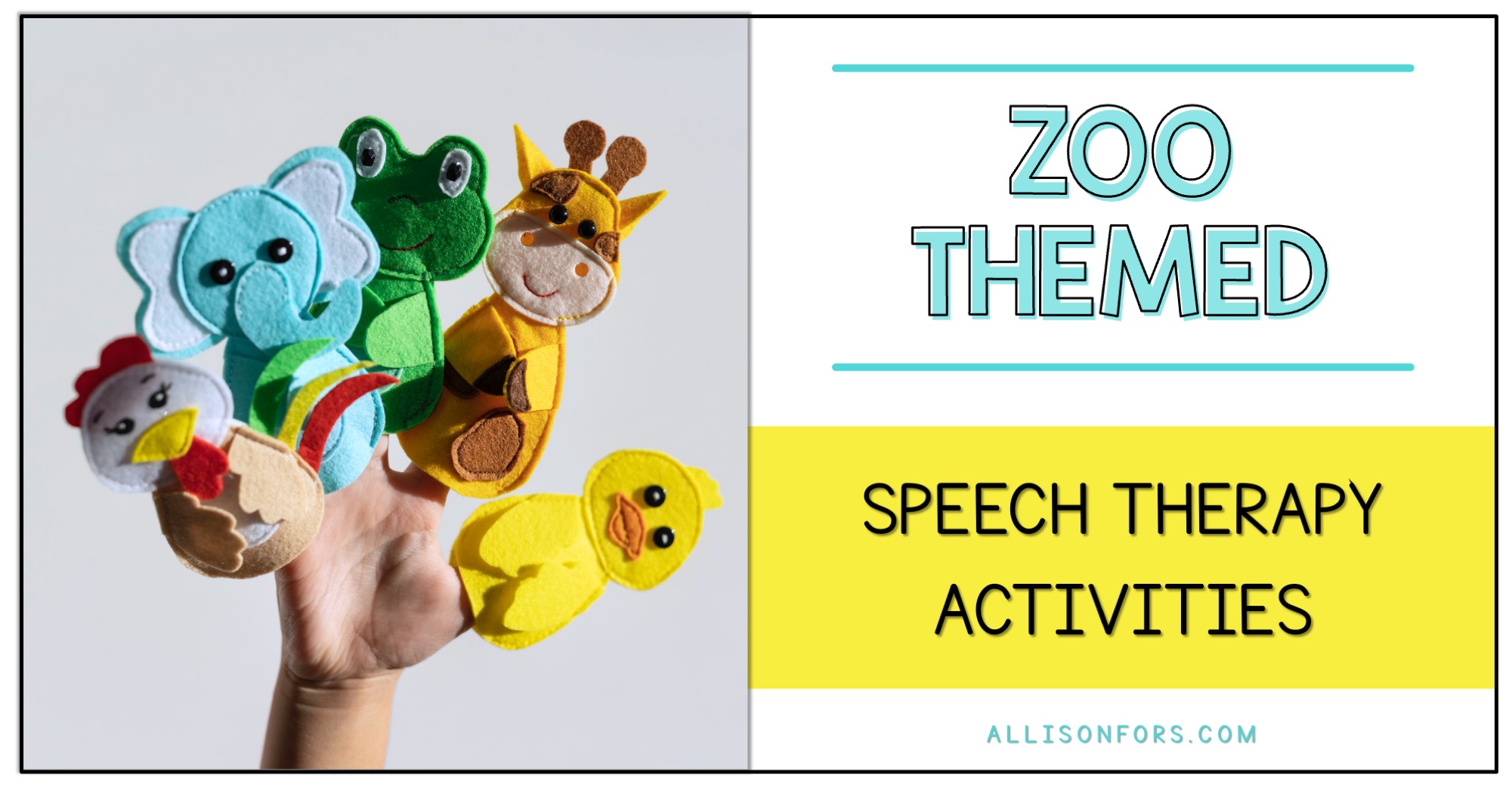 I enjoy using themes in my speech sessions because it helps streamline therapy planning. A zoo theme is great for speech therapy because of all these speech-language concepts you can target!
Zoo Themed Speech-Language Targets
Animal vocabulary – Teach and practice animal names and associated actions, sounds, and adjectives. Compare and contrast animals with tables or Venn diagrams to help build vocabulary.
Descriptive language – Use pictures of animals or go on a virtual tour of the zoo and have the child describe what they see, using adjectives and details.
Prepositions – Describe where the animals are in relation to each other or to objects in the environment, such as "the monkey is on the branch" or "the elephant is behind the tree" to practice spatial concepts.
Wh-questions – Use zoo-themed Wh-questions to practice comprehension and expression skills, such as "What does the lion eat?" or "Where does the snake live?"
Storytelling – Use zoo-themed books or pictures to create a story, retell a story, or sequence.
Articulation practice – Use animal names to practice specific speech sounds or to target specific sounds in sentences, such as "The tiger has big teeth" for /t/ sound.
Conversation skills – Discuss your favorite animals and explain why or talk about a time you visited the zoo. Use conversation prompts to practice generalizing articulation sounds and practicing fluent speech.


Zoo Themed Wh Questions
Who is your favorite animal at the zoo?
Who takes care of the animals?
Who visits the zoo?
Who has black and white stripes?
Who has a mane and tail?
What kind of food do the lions eat?
What do elephants do with their trunks?
What do you use to take a picture?
When is the best time to see the monkeys?
When is the zoo closed?
When do the animals sleep?
When do the animals eat?
When can you go to the zoo?
When do you think is the best time to go to the zoo?
When does a veterinarian come to the zoo?
Where do the giraffes sleep at night?
Why do some animals live in cages at the zoo?
Why are the animals behind fences?
Why aren't you supposed to feed animals at the zoo?
Why can't you touch animals at the zoo?
Why do you need a ticket to go to the zoo?
How do the zookeepers take care of the animals?
Zoo Themed Books
Here is a list of favorite zoo-themed books to incorporate in your speech therapy sessions:
Zoo Themed Activity Ideas
Zoo Interactive Book – An open-ended book that allows flexibility in teaching many concepts! Includes additional pages to work on categories, associations, inferences, WH questions, and following directions while learning about the zoo!
Zoo Language Scene – Zoo picture scene and activities to target many language goals! Great for mixed groups or to use with many students on your caseload. This is a fan favorite!
Zoo Digital Language Activities – A digital, self-grading activity to target: wh questions, inferences, categories, associations, and following 1-3 step directions. It includes fill-in-the-blank, multiple-choice questions, and drag-and-drop features.
Zoo Themed Apps
Peek-a-Zoo – This app is perfect for young children who are learning animal names and sounds. It features a variety of animals hiding behind objects, and the child must tap the object to reveal the animal and hear its sound.
Zoo Train – This app is great for practicing basic vocabulary and sentence structure. It features a train that travels through the zoo, and the child must drag and drop the correct animals and objects onto the train to complete different tasks.
Zoo Sounds – This app is perfect for practicing animal sounds and recognition. It features recordings of various zoo animals; the child can tap each animal to hear its sound.
Do you have any fun zoo-themed activities you use in speech therapy? Comment below!
You might be interested in: Speech Therapy Themes by Month

If you enjoyed this post, please share it!
We are a participant in the Amazon Services LLC Associates Program, an affiliate advertising program designed to provide a means for sites to earn advertising fees by advertising and linking to Amazon.com. All opinions are my own.